If you are building a dream home, we are the answer.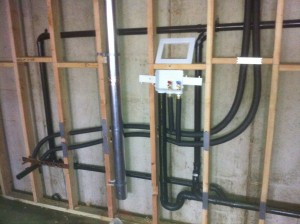 Mainly as a service company we build from a service man's perspective, which means that we build for function and efficiency. As a Rockland County licensed plumber we adhere to all local plumbing codes, which means things will get done right. We will make any project happen from a restaurant to a 10,000 square foot residence according to blue prints or specifications. If you are a builder or general contractor we will do our best to meet your demands and schedule.
Above is a picture of an actual laundry room in new a construction that we recently built in West Nyack, NY. Please check out our work section as well as testimonials section to see our work and what our customers think about us.